Basic information
Industrial zone Kolín-Ovčáry with the total usable area of more than 370 ha is located about 4km north of the centre of Kolín in Central Bohemia. The industrial zone is only 50km far from Prague and the area has perfect location and connection to international infrastructure. The biggest investor in the zone is Toyota car factory. There are 10.5ha of plots available for the investors. The industrial zone Kolín-Ovčáry is located in municipality of Kolín, cadastral area Sendražice at Kolín and municipality of Ovčáry, cadastral area Ovčáry at Kolín.
name of the zone:
Strategic industrial zone Kolín - Ovčáry
municipality with extended competence:
Kolín
distance:
9km D11, 4km railway, 74km airport/span>
type of the zone:
strategic industrial zone
prepared vacant plots for investrors:
10.5 ha
price for 1 m2 of plot parcel:
468Kč excluding VAT and other hidden fees
Plots of various dimensions are ready for sale in the area of Strategic industrial zone Kolín – Ovčáry. In these plots there are no barriers (neither physical nor administrative) which would prevent immediate initiation of construction of common production halls, which will not threaten the environment. It is real to prepare and manage the building of such halls during 8 – 12 months (the average duration of the permission process depends on approval process – EIA, building permission). There is necessity of close cooperation of the investor and their project and engineering company which ensures the preparation of the building with all state administration authorities which issue individual partial territorial and building decisions.
Basic conditions
set for the industrial zone from the cadastral plan
Main purpose
industrial production of mass, factory and mass-series character
area designated for location of industrial production plants and their additional services
it represents monofunctional area reserved for big investors
Allowable usage of the area, activities and building
business activities
living for landlord, temporary accommodation for employees
parking for vehicles of employees and visitors
additional, utility and logistic areas
mass-productive, productive, industrial activity
utility areas of public facilities of public interest
purposeful and local infrastructure
Technical infrastructure
drinking water - DN 150, DN 200, capacity 140 l/s, AT station
sewerage system - combined system of gravity and pressure sewerage
own sewage plant and retentive basin
electric energy - wire 110 kV, transform plant 110/22 kV
telecommunication - telecommunication network including optical cable
communications including public lights, pavements and bike routes
railway siding located in northern part of the zone
gas - DN 110-160, overpressure is guaranteed in level 300 kPa
anti-noise bulwark
Main advantages
efficient location and transport accessibility
accessible and qualified work power
high-quality infrastructure of the zone
permission process - 8-12 months
support from the town of Kolín and CzechInvest
references from current investors
low price of the plots
Location and connection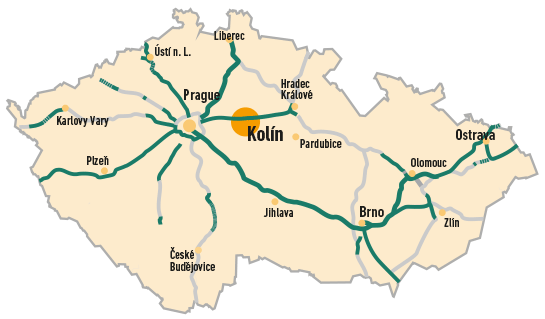 situated in central Bohemia
50km far from Prague
9km accessible from D11 motorway
4km access to railway
the biggest investor – car producer Toyota